Creating a Capsule Wardrobe for Men
Looking perfectly turned out every single day takes time and effort, right? Not necessarily: if you have a carefully curated capsule wardrobe, looking great can be as easy as waking up, grabbing any combination of clothes and accessories off the rail, and heading out the door.

A capsule wardrobe is essentially a simplified collection of clothing, usually made up of just a few timeless pieces that make looking stylish as straightforward as possible. They contain a mix of clothing to suit every season and event, and if done right, they shouldn't go out of style.
What is a capsule wardrobe?
A capsule wardrobe is a streamlined collection of carefully chosen clothing that can be mixed and matched to create a stylish outfit for every occasion. That means that every item or accessory in your wardrobe should be something you can wear with several different outfits.

Versatility is key, meaning that classic styles, timeless fabrics, and neutral or plain block colours are usually the foundation of a capsule wardrobe. But that doesn't mean you can't add few touches of personality here and there — just ensure that each piece is versatile enough to be worn with several different outfits.

There's no set amount of clothing needed to start a capsule wardrobe: how much you need will depend on your day-to-day activities, and the sort of things you like to wear. Typically, that means having enough pieces to see you through every day of the week: we'd recommend a minimum of 8 tops (including t-shirts, shirts, and jumpers), 3 pairs of trousers, a couple of jackets, plus a few accessories to top everything off. This should be enough to keep you going until laundry day, without limiting your outfit choices too much.
Why do I need one? What are the benefits?
For men, having a capsule wardrobe can help solve these fashion dilemmas in a number of ways:

You'll always have a complete outfit ready: Versatility is the name of the game and that means every item in your wardrobe will work as part of a few different outfits. So, you'll never be stuck with nothing to wear.

It simplifies outfit planning: Getting dressed each morning is simple with a capsule wardrobe, as you aren't overwhelmed by choice. Plus, as every item is carefully chosen to match, it's hard to go wrong — you can pretty much get dressed in the dark and still look good! This is great if you're looking to improve your day-to-day style.

It's versatile without being boring: As all your clothing can be mixed and matched to create countless combinations, a capsule wardrobe is endlessly versatile. So, even though you'll have less clothing, you won't get bored of your outfits.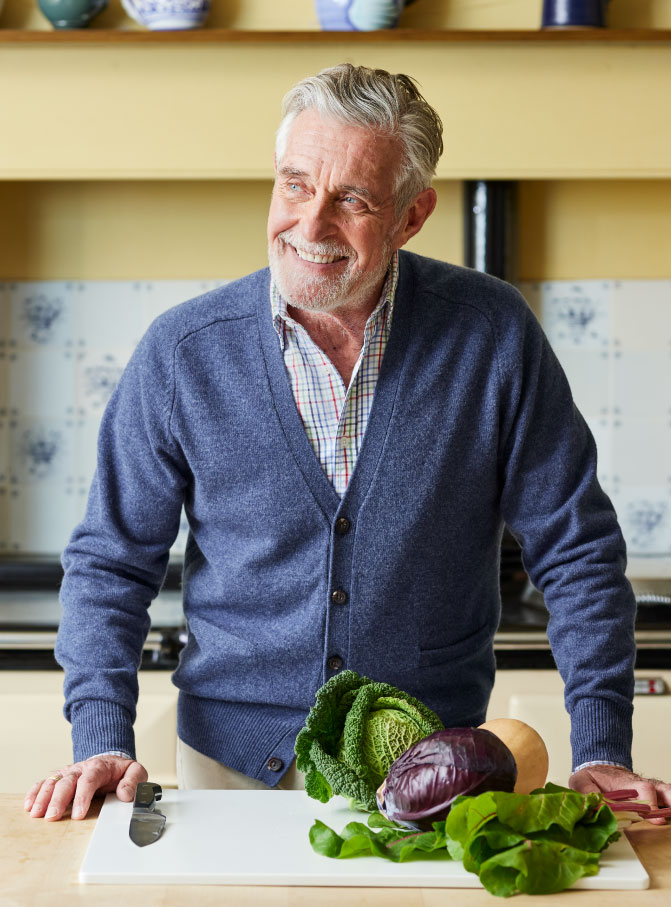 It keeps clutter to a minimum: Having less clothing makes your wardrobe much easier to organise, and you'll be able to see what you've got at a glance. That means no more drawers stuffed to the brim with old T-shirts that haven't seen the light of day in years!

You'll be less likely to panic or impulse buy: Because you'll have an outfit for every occasion at the ready, you won't need to panic buy a new piece every time you have a dinner date, holiday, or important meeting coming up.

You'll actually wear your clothes: Buying cheap, disposable fashion and then wearing each item just once or twice is bad for the environment, your wallet, and your wardrobe. But, as a capsule wardrobe is built around high-quality, versatile clothing, you'll be much more likely to actually wear your clothes for longer.
Clearing out your old wardrobe
A capsule wardrobe should be pared back and uncluttered, so you'll probably need to kickstart the process by having a good clear out to make some space and cut back on stuff you never wear. Start by going through all your clothing and putting anything you haven't worn for at least six months to one side. If it's something you wear only on special occasions, then store it elsewhere. If not, donate or sell it.

Once you've cleared some space, you should also be left with a core selection of clothing you wear frequently and want to hang on to. This will form the basis for your capsule wardrobe.
Identifying the sort of outfits you need
After the clear out, you need to work out which outfits and clothing types are going to be most appropriate for your day to day lifestyle. You need to have enough outfits to get you through the working week, and a range of outfits to suit the social events and leisure activities you get up to.

Consider everything you wear during a typical week. What do you tend to wear on the weekend? How often do you get dressed up to go out? Or do you spend most of your leisure time in relaxed outdoorsy styles? If you work in a uniform, you don't need to worry about workwear. Likewise, if you dress business casual every day for work, it's probably not a great idea to stock up on formal three-piece suits and super-casual loungewear, as you simply won't wear these outfits very often.

Finally, don't forget to have a selection of clothing to suit different seasons, as you want your capsule wardrobe to last you as long as possible. You'll also need clothes for hot weather, so if you're a frequent jetsetter to hotter climates, you might want a few extra shorts and breathable linen shirts.
Picking a colour palette
A man's capsule wardrobe should be classic, and everything should co-ordinate so it looks stylish when worn together. And, that means picking a colour palette for your clothing and sticking to it.

It can help to look at your existing wardrobe and identify which colours you wear most often, as well as which clothing you want to keep. You can then use these shades as the foundation for your capsule wardrobe.

You can inject personality with a few patterned items and accessories, but remember the essential rule: you should be able to mix and match everything to create several outfit combinations. That means picking complementary colours that will look great when worn together. For a men's capsule wardrobe, neutral shades tend to be the most versatile.
Every wardrobe needs at least one cotton Oxford Shirt. Soft yet durable, they can be worn with jeans for a casual look or smarted up with a pair of chinos.
Our chino trousers are extremely versatile, why not smarten them up with a v-neck lambswool jumper layered over a cotton check shirt.
Choosing key pieces: a men's capsule wardrobe checklist
Once you've sorted through your wardrobe, chosen a colour palette, and established which outfits you need, you can start planning which key pieces you want to use as the foundation of your wardrobe. We would recommend that you start your capsule collection using the following staple pieces:

- A smart tailored jacket.
- A casual jacket.
- Three shirts, including at least one formal shirt (perhaps as many as six, if you need one each day for work).
- Four plain colour block t-shirts or polos. You should have at least one white t-shirt.
- A jumper or cardigan.
- A pair of casual chinos or trousers. (Again, you will likely need more if you wear these for work.)
- Two pairs of quality jeans, preferably in different washes.
- A pair of shorts. You can always add a couple of extra pairs to transition your wardrobe to summer clothing.
- A pair of smart classic shoes, like brogues or boots.
- A pair of casual shoes, like deck shoes, loafers, or smart trainers.
- An everyday bag or satchel.
- Seasonal pieces, such as a winter coat or swim shorts, can be stored elsewhere when they aren't needed, to help keep your capsule wardrobe as clutter-free as possible. Likewise, a smart formal suit will also be handy for weddings and other formal events, so keep this in a suit bag somewhere out of the way.

As long as all your pieces co-ordinate with one another, you should have no problem creating a week's worth of outfits using just these pieces. What's more, it's possible to create all sorts of combinations using just these 17 essential pieces, so you should have plenty of fresh looks all season long. Accessories, like belts, cufflinks, and even colourful or patterned socks can all be used to liven up your outfits, too.

Remember, while these essentials will see you through almost every occasion, it doesn't include underwear, socks, nightwear, or workout clothes.
There are loads of advantages to creating a capsule wardrobe for men: it makes getting dressed much easier, your closet space will be more organised, and you'll never feel like you've got nothing to wear. Follow the tips we've shared in this guide and before long you should have a versatile capsule wardrobe that will see you through every season and occasion in style.