Men's blazer styles: A guide to buying and wearing blazers for men
Every man should have a selection of blazers in his wardrobe: they're great for occasions when you want to look put-together, but a suit would be a bit much.

There are a lot of things you need to consider when buying a blazer. What kind of style should you go for? What should you wear with one? Which material is best? If you don't know what you're looking for, blazer shopping can be quite difficult, and this can put some people off.

If you would like to add a blazer to your wardrobe but aren't sure where to start, we're going to help you out. In this guide, we'll explain everything you need to know.


What is a blazer?
In short, a blazer is a jacket that doesn't form part of a suit, but is considered appropriate for formal wear.

There is some disagreement about when the blazer was born. Some believe they were first worn by rowers at Cambridge, who used the jackets as glorified athletic windbreakers. They were a very bright shade of red and it's said that the term 'blazer' came from their fire-like colour.

However, some would argue that this style of jacket was born in 1837 when a Royal Navy ship, the HMS Blazer, was expecting a royal visit from Queen Victoria. The captain had requested a new uniform for his crew, and blue double-breasted jackets were designed for them. Regardless, the style soon caught on, and men outside of the Navy and rowing clubs have been wearing this style of jacket ever since. They're now considered suitable for weddings, work, and smart-casual events.

What's the difference between a blazer and a suit jacket? In the formality stakes, a blazer is typically considered to be a step down from a suit jacket. But, the biggest difference between a blazer and a suit jacket is that a blazer stands alone, while a suit jacket can always be bought with a matching pair of trousers.
Men's blazer styles
There are two main blazer styles you will come across while shopping: single- and double-breasted.

Single-breasted blazers and suit jackets tend to have one, two, or three buttons, but you might find one with four or five. They work for a whole host of occasions, from date nights to formal events like weddings, and they're comfortable to wear. So, it's well worth having a small selection of single-breasted blazers in your wardrobe.

Double-breasted blazers are made with a larger amount of fabric that folds over at the front, and they come with two columns of buttons. These jackets tend to be far more formal than their single-breasted counterparts, which means they don't work quite as well for events that are on the more casual side.

Double-breasted blazers aren't nearly as common but, with the right outfit and for the right formal occasion, they can look great.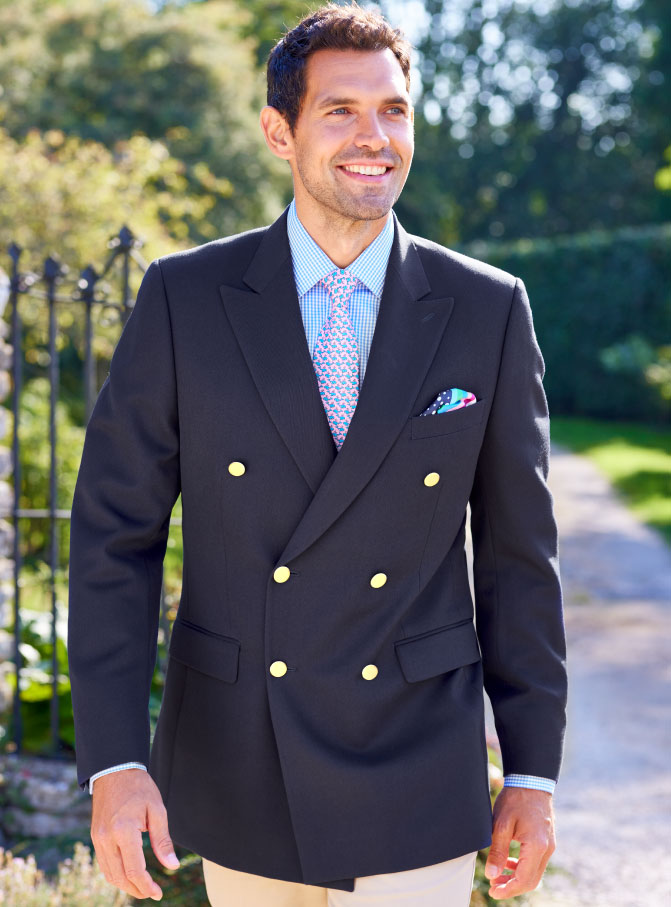 Blazer fabric types
When you're shopping for a blazer, you'll find that there are plenty of fabric options to choose from, with some working better for certain occasions over others.

Wool

Thanks to the fact that they'll do a fantastic job of keeping you warm, wool blazers are perfect for the autumn and winter months. They tend to have quite a formal look, which means they aren't the best for casual occasions. However, they can work really well when you want to look put together — at work or a smart-casual event, for example.

Wool blazers come in a wide range of colours: you could go for a neutral tone like a light brown or opt for something a little bit different like burgundy. And, you can pair yours will a range of trouser options, from some dark jeans to a pair of smart trousers or chinos.

Tweed

Tweed blazers are quite similar to those made from wool, in that they tend to be on the more formal side and will do a great job of keeping you warm. There are several types of tweed you might come across while shopping, including twill, overcheck, striped, checked, and herringbone tweed. You can read more about these in our guide to tweed.

Again, tweed blazers can look great with a well-fitted pair of jeans, or some smart trousers or chinos in a neutral colour. If you're feeling brave, you could even opt for trousers in a nice shade of green, blue, or burgundy.

Linen

Linen blazers are light and breezy, which makes them perfect for the warmer months. They're a popular choice at summer weddings, and come in a wide range of colours, which means you should always be able to find one that suits your style and the occasion perfectly. Linen blazers tend to come in classic colours, such as navy and beige, which means they're timeless and make a great wardrobe staple.

Cotton twill

Cotton twill is similar to linen in that it's breathable, which means blazers made from this fabric work particularly well for the summer months. Although, it is considered to be more formal, which is why it's often used to make workwear.

If you're looking to buy a piece that's going to be suitable for fancier occasions, but also comfortable enough to wear for long stretches, a cotton twill blazer will fit the bill perfectly.

Velvet

A velvet blazer is always going to look formal, because the fabric is quite luxurious. This means they tend to work best for events that are on the fancier side. A velvet jacket will work very well with a pair of slim-cut trousers in black or grey. If you want to look especially put-together, a plain formal shirt will look smart, but you can also dress your look down with a plain T-shirt in grey or white. A pair of Chelsea boots or some brogues will also help to finish the whole look off. You'll be able to find these styles in our ranges of men's shoes and boots.
How to wear a blazer
Blazers are incredibly versatile and can be dressed up or down, but this means that it's not always easy to work out how they should be styled. Here, we're going to break it down, so you know exactly how to wear a blazer, whatever colour it might be.

What to wear with a grey blazer

Grey blazers are arguably the most versatile, which means there are plenty of ways to wear one. For example, for work, you could pair yours with a pair of slim-fit trousers in black, brown or navy. And, they can be layered over a formal or casual shirt, a jumper, or a T-shirt.

These days, you can get away with throwing on a pair of stylish trainers if you're going to quite a casual event. But, otherwise, a pair of Chelsea boots or brogues in brown or black will complement your outfit perfectly.

What to wear with a navy blazer

Navy blazers tend to look quite polished and are almost as versatile as their grey counterparts. Again, they can be worn over a casual shirt or jumper for a pulled together look, while a round-neck T-shirt will also work very well for more casual occasions. Pair a navy blazer with a pair of jeans in a medium or grey wash, unless you're going for a smarter look — if so, a slim-fitting pair of grey or tan trousers will complement your jacket perfectly.

What to wear with a tweed blazer

A tweed blazer will always be quite formal, which means they look best layered over a formal shirt or smart jumper. You can give your look a more casual twist by pairing your tweed blazer with some dark wash jeans or a pair of tan chinos.

How to wear a blazer with jeans

When you're choosing a blazer that you can wear with jeans, it's very important that you pick the right colour. Navy is typically a failsafe option, because the colour is incredibly versatile and will complement a range of denim shades. Grey is also a great choice, thanks to the fact that there are so many different hues to choose from. If you want to go for a more classic look, tweed can also look great with denim.

Of course, any outfit styled with jeans is going to be inherently casual. And, you have a number of options when it comes to what you want to wear your blazer with: a casual shirt, T-shirt, or thin knit would all work well.
How to measure for a blazer
Any blazer jackets you buy should fit perfectly. You can get away with wearing slouchy T-shirts and knitwear, but tailored pieces need to be fitted exactly to your body measurements. If they aren't, more often than not, they end up looking sloppy. So, it's crucial that you know exactly how to work out what size blazer you require. To find this out, you're going to need a tape measure and someone who can help you with the measuring.

The chest measurement is the most important, so we'll start there. Make sure you're standing up straight with your arms relaxed at your sides. Ask your helper to wrap the tape measure all the way around the largest part of your chest, under your arms and across your shoulder blades. The tape should be snug, but not tight. Record the measurement and then repeat this process around your waist.

You'll then need to find out the width of your shoulders. A blazer should always fall smoothly around your shoulders and allow for the movement of your arms, which means you need to get it just right. Make sure you're standing relaxed, and ask the person helping you to place the tape measure across the top of your back from one shoulder to the other. It should mould to the shape of your back, so you can get an accurate measurement.

Finally, you'll need to work out what jacket length you need. For this, you'll need to consider your height, as well as how you want your blazer to fit. For a standard blazer, it's best to measure from the top of your shoulders to the top of your thigh, but you do have some freedom to choose exactly where you would like your blazer to fall to.

Once you have all of the necessary measurements, you can use our size guide to work out which size of jacket you require.

How long should a blazer be?

When you're standing up, the bottom of your jacket should fall 1–2 inches above the top of your thighs. A tailor will typically be able to shorten a blazer up to an inch without throwing the piece off balance, but it can still be difficult to get this right. So, you'll generally want your jacket to be just the right length when you buy it.

If you're looking to add a new formal jacket to your wardrobe, you'll need to consider the different styles of blazer available, what kind of material you want yours to be made from, and how it should fit. Take the tips that we've outlined here on board, and you should have no trouble finding the perfect piece in our range of jackets and blazers.