Wearing & Caring for Men's Linen Shirts
Men's linen shirts are perfect for summer. Many people find linen provides a slightly looser fit than cotton and as such is not only more comfortable but also cooler in the summer months. We offer a great selection of linen shirts available in both long and short sleeves in a wide range of colours and patterns.
How to Wear Linen
Whether it's a shirt, suit or trousers, linen is best suited to the warmer months. The question is what should linen be worn with?

Linen will look best when matched with other natural materials like cotton or wool. Short-sleeved shirts go nicely with jeans or chinos. For a slightly smarter look, a long-sleeved linen shirt can be worn with smart wool trousers.
In terms of colour-matching men's linen shirts, you can play it safe with a pair of neutral or navy coloured chinos which can be worn with any colour and pattern. For a more adventurous look why not wear a pair of our blue chinos with a floral linen shirt.
Caring for Linen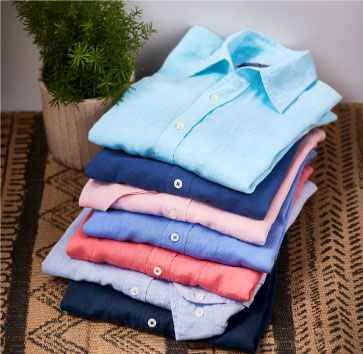 Most men's linen shirts can be washed on a gentle, warm-water cycle in a washing machine. However, always check the label before washing. The appearance of linen actually improves with age. Repeating washing, by hand or in the machine, will soften the material and decrease wrinkling.

It is never a good idea to machine-dry linen. Instead, allow it to air dry, preferably on a flat surface or hung up using a wooden padded hanger. Men's linen shirts should be ironed while still damp. We would advise you to not iron linen garments completely dry, as this will cause them to burn.