What to Wear to A Wedding: A Guide to Men's Summer Wedding Outfits
So, you've got the invitation, booked the time off work, and you're already looking forward to your friend's wedding later this summer. There's just one problem: you have no idea what to wear.

The days of sporting a top hat and tails at a wedding are long gone, and many modern couples choose not to have a strict dress code, allowing their guests more freedom when selecting an outfit. But that presents male guests with a real style dilemma: what should you wear to ensure you look the part, and how can you strike the right balance between formal and casual? For style-conscious chaps, there's also the additional challenge of finding an outfit that will suit the tone of the event without looking identical to every other man's in the room. And, to further complicate matters, many modern couples are choosing to hold their ceremonies abroad, meaning guests need to find an outfit that's suitable for hot climates and exotic beachfront locations, yet still stylish enough to suit the occasion.

So, with all this in mind, what should a man wear to a summer wedding? In this guide, we'll answer all of your questions about men's summer wedding attire.
Wedding attire for men: The basics
Before we talk about what to wear in more detail, we'll start by discussing some of the basic principles of wedding attire for men. Here, you'll learn how to get an idea of what sort of clothing is appropriate for the venue, and what to do if you're in doubt about the dress code.

Respect the invitation
When attending any kind of wedding — regardless of the season it takes place — the key thing to remember is that you'll need to pay attention to any requests on the invitation. If the bride and groom are planning on having a dress code, then it will be specified here. Getting this wrong could mean you show up over- or underdressed, so save yourself the embarrassment and check the details of the invite carefully.

Review the venue
If the invitation doesn't specify a dress code, then you'll need to do your homework and research the wedding venue. This will give you a clue about what sort of attire is going to be the most appropriate. For instance, a wedding in a church will usually call for a smart lounge suit in black or grey, but for an outdoor wedding on a beach or in a park, a linen suit in a light pastel shade might be more fitting (and more comfortable).

Bear the climate in mind
While it might sound obvious, you'll need to consider what sort of weather you're likely to encounter on the day of the wedding, and choose your outfit with this in mind. For instance, if you wear that three-piece wool suit from the office Christmas party to a venue without air-conditioning in the middle of July, then you'll be soaked in sweat before the bride and groom have even said their vows.

Instead, pick an outfit made from breathable woven fabrics that will keep you cool. Linens and light cottons are ideal, as they wick sweat away from the body and help the skin to breathe. If you're worried about changeable weather conditions on the day, then bring along a light merino jumper in case you need an extra layer. When in doubt — dress up!

If you're not sure how formal the event will be, it's always safer to overdress rather than underdress. The advantage of a full suit and tie is that it's adaptable: if you feel more dressed up than the other guests, you can always take off your jacket, remove your tie, and unbutton your collar. Plus, if you make a real effort, your hosts are much less likely to hold it against you than if you show up underdressed.
What to wear to a black-tie wedding
While seeing the phrase 'black-tie' on an invitation can seem intimidating, it actually makes things very straightforward. With this sort of dress code, only one thing will fit the bill: a tuxedo and bow tie.

At a black-tie wedding, a male guest will be expected to wear a dinner jacket with slim satin or silk lapels and no vents or slits to the back. This should be worn with a white dress shirt with a turn-down collar, and a pair of fitted black dress trousers. As for the bow tie, it's generally agreed that clip-on styles should be avoided, so you'll want to go for a hand-tied version instead.

Traditionally, a black-tie outfit would also feature a cummerbund (a silk or satin sash worn around the middle), but this is no longer a necessary requirement, so it's up to you whether you wear one. To finish the look, you'll want to wear a pair of well-polished dress shoes, although a pair of brogues will look the part, too. When wearing black-tie, the most important thing to remember is that you want the silhouette to be clean, sleek and sophisticated, so it's also essential that your tux is a great fit.

Lastly, don't be deceived by the name: a black-tie outfit doesn't need to be black. Unless the invitation specifies a colour, you're free to pick a tux in any shade you like. Those that want to stand out from the crowd could go for a navy blue, burgundy, or even a checked style. An all-white tuxedo with a black bow tie is great for a summery take on a classic look (you might want to avoid drinking red wine at the reception, though).
What to wear to a white-tie wedding
If the dress code specifies 'white-tie', then you're in luck: weddings with this sort of dress code are generally no-expense-spared celebrations, so you're certainly in for a treat. Sometimes called ' full evening dress', and often colloquially referred to as 'tails', white-tie is the most formal kind of dress code — and contrary to what many people assume, it's not just a white tuxedo and a bow tie. This style of formalwear was popular among the upper classes right up until World War 2 (as any fan of Downton Abbey will know), but nowadays it's generally only seen at royal ceremonies, debutante balls, and May balls at certain Oxford and Cambridge colleges.

This is one of the most complicated dress codes, so if you've been invited to a white-tie wedding, it's important to get it right. A white-tie outfit consists of a black single-breasted tailcoat, which is cut short across the stomach and worn long at the back (the 'tails'). This is worn over a white dress shirt with cufflinks and studs, and a special type of low-cut waist jacket called a marcella waistcoat, both of which must be crisply starched. Trousers must be black, with a subtly tapered shape and a line of double braid down the outside leg. The eponymous white tie is actually a slim bow tie, which must be tied by hand.

To complete the look, you may also want to add a corsage or boutonnière to the lapel (some couples will have a preferred colour scheme for these, so ask your hosts in advance). You'll also need a pair of patent lace-up dress shoes, which should be buffed and polished to a flawless shine. If your dress shoes are currently in less-than-pristine condition, then take a look at our shoe care range to find everything you'll need to get them ready for the big day.

As white-tie is rarely called for these days, many wedding guests prefer to hire a dress suit rather than buy one. Any professional formalwear hire shop will be able to provide you with one, and advise you on the correct fit.
Men's wedding outfits for the beach
While sand, sea and sunshine might provide the perfect backdrop for a romantic ceremony, it can also make finding the perfect outfit for a beach wedding rather tricky. In countries with hot climates, you'll need to wear something that will look sharp while also keeping you cool, and if the wedding is being held on a sandy or pebbled beach, you'll need to choose appropriate footwear, too.

Men's wedding outfits for the beach should be cool and comfortable, so if you're lucky enough to be jetting off to a reception in a tropical locale, then light summery fabrics are a must. A linen suit will look smart and celebratory, but the breathable fabric will help you to stay cool — opt for a light neutral shade, like beige or khaki, as this will suit the summery vibe.

If the invitation specifies a casual dress code, then you can forego the suit and just wear a shirt and trousers, instead. Pick a casual shirt in a linen or cotton material: ideally, you want to be able to roll up the sleeves for a completely relaxed beachy look.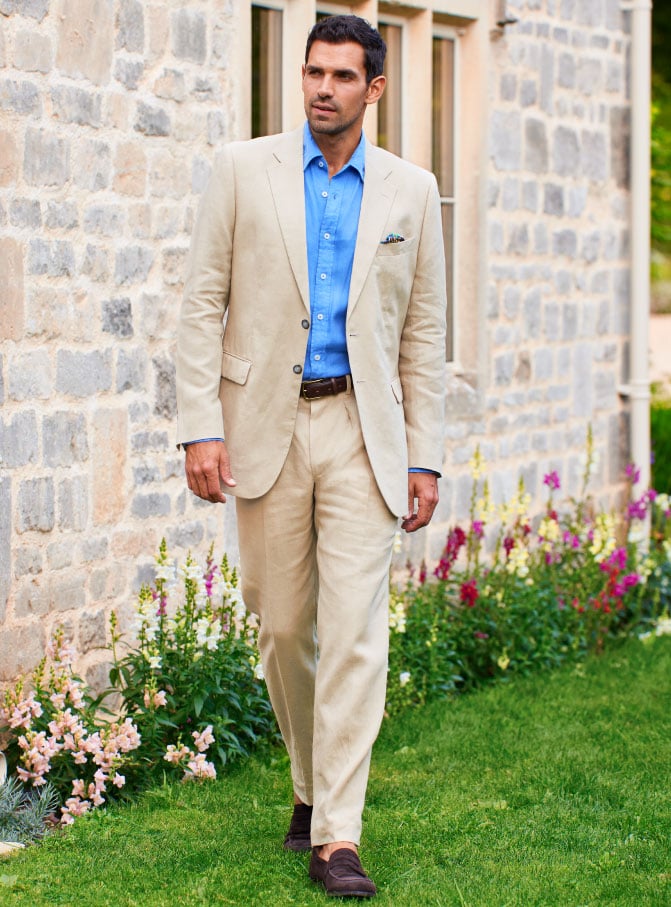 Some beach weddings allow guests to go barefoot or wear flips flops during the ceremony, but if you're not sure then it's best to bring a pair of suitable shoes with you. Sandals or deck shoes (worn without socks) will look perfectly stylish when paired with a linen suit, while also being practical enough to wear on a sandy beach.
Casual wedding attire for men
At a wedding with a casual dress code, you're free to decide how dressy your outfit will be. In theory, you could wear whatever you like, but as a wedding is always a special event (it's one of the most important days in your friend's life, after all) you'll still want to make sure you don't look scruffy. Unless you're attending a seriously laid-back wedding, then vest tops, sportswear, baseball caps, and jeans are all no-go items.

Instead, you'll want to pair a shirt with casual trousers for a relaxed yet smart summer look — a pair of chinos should provide the right balance between sophisticated and chilled out. Your shoes should be casual, but not sandals or trainers, so a pair of brogues, deck shoes or loafers should hit the right tone. Make sure you tuck your shirt into your trousers for a put-together look, and finish your outfit with a belt in black or tan leather.

At a wedding with a casual dress code, you have more freedom in terms of which colours you can wear, so don't be afraid to jazz things up with a few pastel shades. Pinks, light blues, light khakis, and stone or tan shades all perfect for a summer wedding, so feel free to pair a tailored jacket in a light colour with a pair of navy chinos, or vice versa.
Smart-casual wedding attire
Smart-casual is one of the most common forms of attire at weddings and, as it allows for quite a lot of creativity, it tends to make people panic. But there's no need to fear this versatile dress code. To an extent, it still calls for a smart formal look, but there's a degree of flexibility, so you can afford to be a little more creative than with a black- or white-tie dress code. The only requirement is that you look sharp, so a formal shirt, tailored jacket and pair of smart shoes are essential. As long as you get these basic elements right, you can feel free to inject a bit of your own personal style into the rest of your outfit using shoes and accessories.

While you could play it safe in an everyday workwear suit, a wedding is a celebration, so it's only right to add a few festive touches to your outfit. If you want to elevate a basic grey or navy suit for a wedding, then make sure the rest of your outfit is a bit more daring. A formal shirt in a lively colour or print will add interest to a plain suit or jacket, and a pair of stylish cufflinks and a corsage or pocket square will complete the look. A tie isn't necessary with this sort of dress code, but if you do decide to wear one, pick one in an eye-catching print or colour to keep things fresh.

Footwear should be smart, but it doesn't need to be a pair of dress shoes, so feel free to substitute these for loafers or brogues. If you'll be wearing your trousers above the ankle, then you could even go for a pair of colourful socks, for an easy way to add a dash of quirky style to your outfit.

Finding the perfect outfit for a summer wedding might seem tricky at first but, as long as you do your research on the venue and find out about any dress codes in advance, you should be able to put together a stylish summery look that will blow the congregation away. Remember, we stock a selection of sharp linen suits, tailored jackets, and trousers, so be sure to take a look when planning what to wear to a wedding.