What is tweed? A guide to 'the big cloth'
Tweed has been central to British style for centuries. It's been used to make country clothing since the 1800s and, if you've ever owned a flat cap or country jacket, chances are it's graced your wardrobe.

But what exactly is tweed?

"Tweed is a natural fibre textile, woven with a soft, open weave and made from wool", according to the Harris Tweed Authority. While this points us in the right direction, we'll have to dig a bit deeper if we want to define exactly what this material is and how you can incorporate it into your wardrobe.

In this guide, we answer all your frequently asked questions about this quintessentially British fabric.
When was tweed invented?
Tweed was invented in the 18th century by Scottish farmers to help them endure harsh winters. During this time, tweed — which was known as Clò-Mór in Gaelic ('the big cloth') — was woven to be as weather-resistant as possible. It was extremely thick and didn't feature the colourful and intricate designs it's now renowned for.

Tweed as we now know it was developed in the 1830s, when the British aristocracy took to the material. Its weather-resistant properties made it the fabric of choice for the staff uniform at their country estates, and the upper classes would commission unique estate tweeds that would blend in with the surroundings of their grounds.

In the 1840s, improved production methods made tweed more affordable. It became the fabric of choice for hunting and fishing clothing due to its weather-resistance, and the fact it helped the wearer camouflage into their environment.

Over the decades, as tweed production became more automated, it became affordable enough for those outside of the aristocracy. Today, it's a quintessentially British fabric that you can use to add sophisticated style to almost any outfit, and no man's wardrobe is complete without a bit of tweed.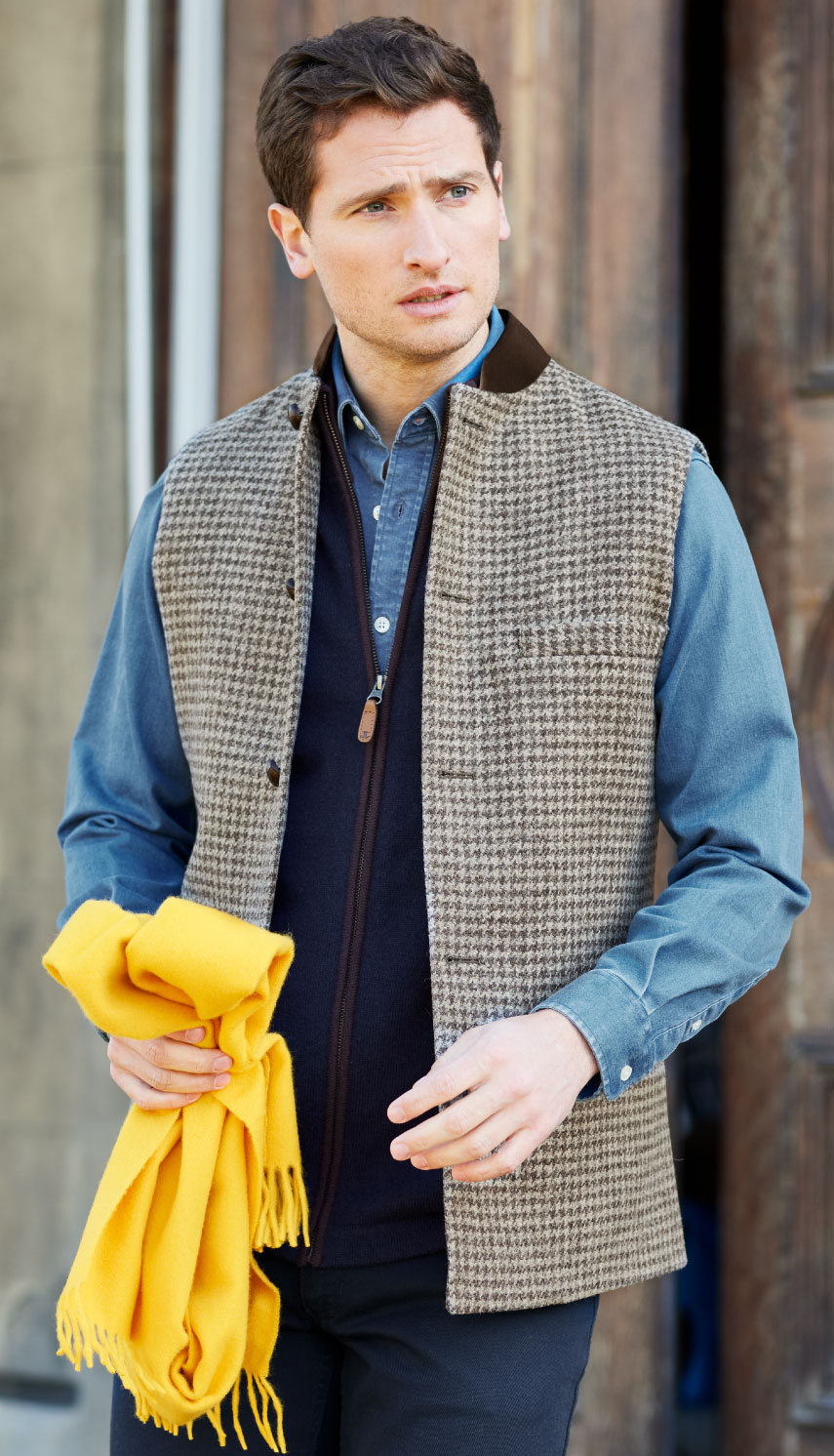 What is tweed made out of?
Tweed is made of tightly woven dyed wool. It comes in a variety of weights, weaves, and colours. This means there is no 'typical' tweed: the material ranges from plain and lightweight to colourful and heavy, covering everything in-between.
Where did tweed get its name?
There are two theories about where tweed got its name. Some believe it stems from the fact the fabric originates from Scotland's Tweed valley.

However, there is also evidence that the material got its name in 1826, when a London clerk misread an order for 'tweel' — the Scottish for twill, after the weave of the fabric — and mistakenly advertised it as tweed in his shop. According to the story, the items flew of the shelves and the name stuck.
What are the types of tweed?
Tweed comes in several different weaves. Each pattern creates its own distinctive effect, so it's important that you know the difference if you want to find the perfect tweed for you.

Twill tweed - Twill is the simplest type of tweed. It's has a simple diagonal pattern running through it that is often extremely subtle, and usually a solid colour. This makes it a versatile material and perfect for wardrobe staples.

Overcheck tweed - Overcheck tweed is a twill weave that has been overlaid with a large check in a contrasting colour. This makes for an eye-catching effect — perfect for a focal point of any outfit.

Striped tweed - Striped tweed features vertical stripes in contrasting colours. This creates strong parallel lines running up the material for a striking effect.

Checked tweed - Checked tweeds feature vertical and horizontal stripes that combine to create small checks. This weave is often overlaid with a larger overcheck in a contrasting colour.

Herringbone tweed - Herringbone tweed features an intricate pattern that closely resembles fish bones — hence the name. This weave is made up of column after column of slanted parallel lines that change direction every few threads, creating a distinctive 'V' shape.

Estate tweed - Estate tweed is usually, though not always, a herringbone weave that has been overlaid with a checked pattern. It's known as estate tweed because Highland estates would commission their own unique version that blended in with the fauna of their estate so it would camouflage their gamekeepers during hunting. Barleycorn tweed - Barleycorn tweed features a coarse weave that resembles barley kernels close-up. From afar, this weave appears speckled, and can add a unique texture to your wardrobe.

Houndstooth and dogtooth tweed - Houndstooth tweed gets its name from its resemblance to the back teeth of a dog. It often comes in monochrome, although you'll find it in a mix of earthy colours overlaid with a large contrasting check as well.

Plaid tweeds - Plaid tweeds feature bold stripes of varying widths and colours — not unlike tartan. These colourful patterns make a fantastic statement piece.
What to wear with tweed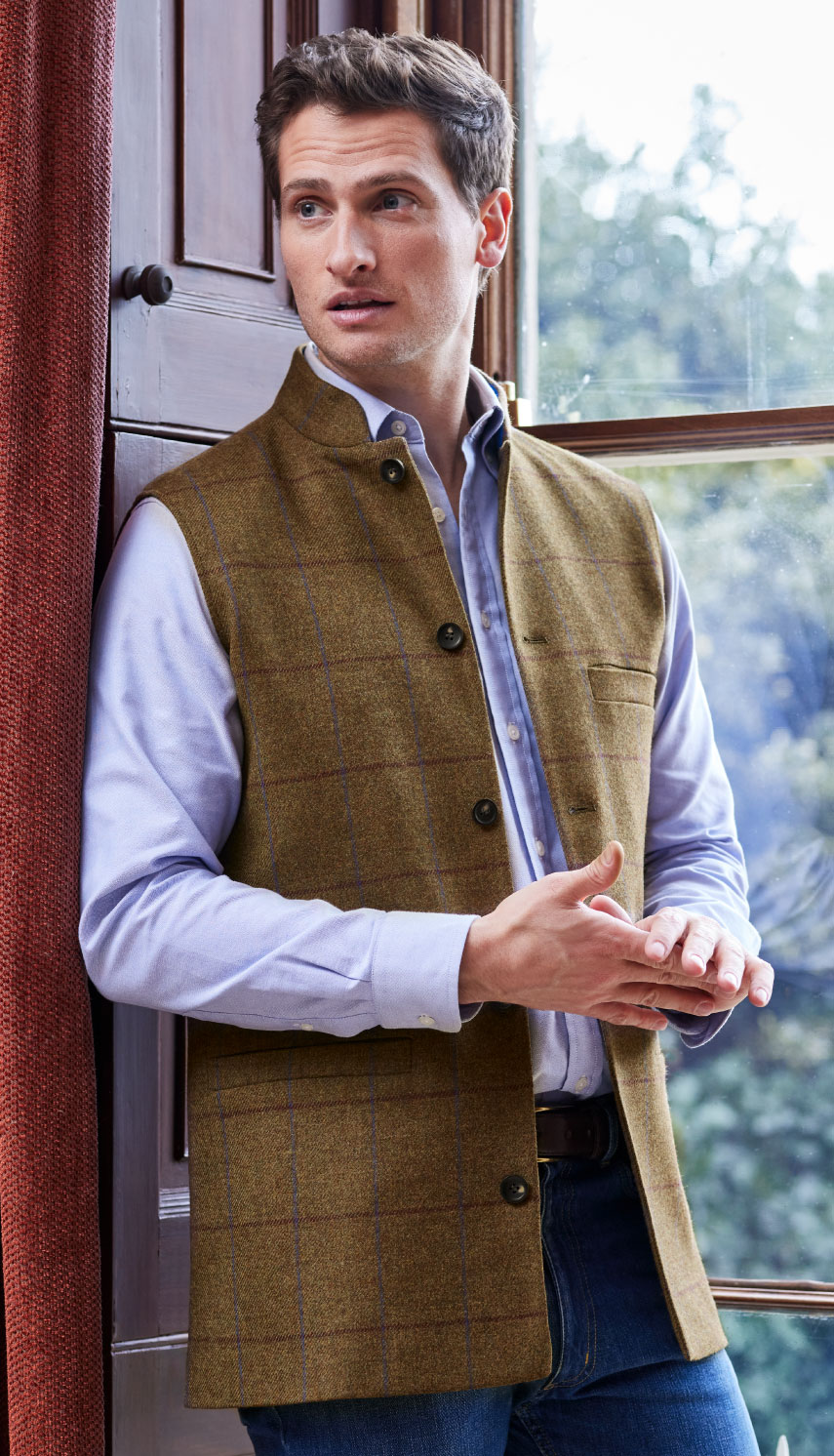 Today, tweed regularly graces catwalks from Paris to New York. However, you still have to be careful how you wear tweed today, as it can end up looking a bit outdated if you're not careful.

Fortunately, you only need to follow a few simple rules to look fantastic in this modern-day menswear staple.

First, if you opt for a bold tweed, make it the focal point of your outfit. For example, a blue and red check Dale tweed jacket will look fantastic paired with a white button-down Oxford shirt and navy flat front chinos, but can clash with something more colourful. If you're a fan of eye-catching tweeds, be sure to wear them with neutrals to avoid any fashion faux pas.

Secondly, be sure to match your footwear to your tweed. Classic styles like black Oxford shoes and Princeton loafers make the perfect partners to a tweed jacket. Full brogue shoes — which were originally designed to help Gaelic farmers navigate boggy fields — have been worn alongside tweed for centuries, which makes them the naturally accompaniment to this iconic fabric if you're going for a traditional look.


Tweed makes a fantastic accessory as well. Whether in the form of a Harris Tweed flat cap or country baseball cap, it can bring colour and texture to your wardrobe all-year round.

Lastly, remember that a tweed jacket can make a fetching overcoat. Keep warm in autumn and spring by layering a tweed blazer over a Shetland crew neck jumper — or a Donegal jumper if you're donning a Donegal tweed jacket. Originally prized for its weather-resistance, a quality tweed jacket will keep you warm and dry in all but the worst weather. When winter is well and truly upon us, complete your outfit with a sturdy, hardwearing men's coat.
How to care for tweed
While tweed is renowned for being tough, it isn't indestructible. Because it's made of wool, tweed is terrible for shrinking in the wash, so always have it dry cleaned. You should also be careful about how you store your tweed. Hang jackets on quality padded hangers and cover them in plastic to prevent moths from feasting on them, as they find the fabric particularly tasty. Fold trousers and accessories up neatly and store them in a drawer.

Hopefully we've answered all your questions about 'the big cloth' in this guide. If you want to add this fabric and its rich history to your wardrobe, shop our selection of men's tweed blazers and hats today, where you'll find a wide selection of fantastic tweeds.