Five Great Looks for Men's Corduroy Trousers
Is there anything more comfortable than a pair of comfortable cords? We think not. Check out these five different looks which can be achieved with a pair of corduroy trousers.
1. Cords and a Plaid Shirt– On those cold wintry days, there is perhaps nothing nicer than chilling out in a plaid shirt and cords, preferably with a good book in front of a log fire. Whether you choose to leave your shirt untucked or to tuck it in is up to you, as either look will work.
2. Cords and a Wool Jumper– Corduroys are the perfect match for a wool jumper or a sleeveless V-neck. Layer over one of our York shirts to create a slightly more sophisticated look that could be worn for those smart-casual events.
3. Cords and Long-Sleeved Shirt– This is another look for those colder days. Add a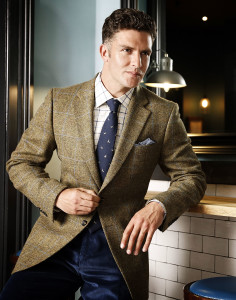 sleeveless gilet and a good pair of hiking boots and you are all layered up and ready for a brisk country walk on a lazy Sunday. This outfit is both warm and stylish, so if you end up in a cosy pub somewhere along the way, you will fit right in.
4. Cords and a Formal Shirt-On a night out on the town, a dinner meeting with clients or even for a date, cords with a button-down shirt will be sure to impress. Wear with a pair of dress shoes and a good quality belt to complete the look. You can even add a tie if the occasion requires.
5. Cords and a Tweed Jacket- A heavy-weight Tweed jacket is the perfect partner for a pair of men's corduroy trousers. Worn together they create a well thought out outfit that is both stylish and warm. Why not add a Tattersall checked country shirt and a wool/silk tie to finish the look.
No matter how you wear your men's corduroy trousers, always ensure they are ironed and wrinkle-free. A simple iron or steamer will leave the trousers crisp and looking fresh. Take a look at our selection of men's corduroy trousers today.
The post Five Great Looks for Men's Corduroy Trousers appeared first on Joseph Turner News.