A Short History of Argyle Socks
Socks are not only useful to prevent blisters and to keep your feet warm. They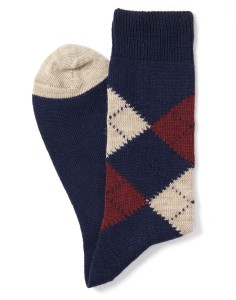 also allow you to express a certain sense of individuality. The word 'sock' originates from 'soccus'- Latin for the soft shoes, which comic actors would wear back in Roman times. They are now everyday garments.
The modern sock comes in a wide array of colours, designs and fabrics and can range from formal to the casual. Argyle socks are generally considered to be in the casual category and remain extremely popular to this day.
Argyle socks feature a diamond pattern running around the cuff or up the side. They are usually multi-coloured, from muted tones to bright and clashing.
Debate continues as to the exact place the Argyle sock first made an appearance, but many scholars suspect it was Argyll in Argyllshire, West Scotland. Others dispute this due to the spelling difference. However, regardless of location, there is little doubt that the first Argyle socks were designed by Scottish clansmen way back in the 16th century, when they used their traditional tartan to fashion foot coverings, creating the unique diamond pattern.
Argyle knitting patterns became very popular, and by the end of the 18th century, Argyle socks were being mass produced. There are now millions of different designs available to buy.
In the 1920s the striking diamond pattern of Argyle became associated with golfers, including the Duke of Windsor. Even today many continue to wear the stereotypical Argyle 'uniform' when on the course. Argyle patterns are used on sweaters, vests, socks and other clothing items, and over the years they have fallen in and out of fashion. Today, however, Argyle is right on trend, and not just for those playing golf. During the 1940s and 50s, after World War II, the Argyle pattern once again grew in popularity. Beginning in England, the craze spread across the pond to the US, where girls learning to knit would create Argyle patterned socks for the boys they were sweet on.
With such a rich and interesting history, it is no wonder the Argyle pattern is considered one of the most loved of all time. Take a look at our range of Argyle socks online today.
The post A Short History of Argyle Socks appeared first on Joseph Turner News.