A Guide to Men's Deck Shoes
The deck shoe, also known as the boat shoe, is a staple piece of footwear in many wardrobes. Due to their unique design and aesthetic detailing they are the perfect footwear for casual occasions, especially during the summer months.
Deck Shoe Characteristics
They traditionally feature a 360° lacing system. This gives the wearer the ability to clinch the shoe's collar for better security on the foot.
The laces are made from the same material as the uppers (leather).
Leather uppers are treated to repel water and to be stain proof. This makes these shoes ideal for all types of weather.
Traditionally, men's deck shoes had dark brown leather uppers. Today, uppers are available in both canvas and leather in various colours.
Hand sewn and top stitched.
They normally have two or three eyelets per side, making them easy to slip on and warm weather friendly. Adding more eyelets would bring the tongue of the shoe up too high on the foot.
Boat shoes are notable for their non-marking rubber soles. The soles are usually made of white rubber but modern boat shoes can have soles in a variety of colours.
The soles are slip-resistant. To create this, a siping pattern that features multiple zig-zag or wave-shaped incisions is carved into the bottom of the sole. These moulded grooves encourage water to flow away from the sole's surface as pressure is applied from the wearer's foot.
How to Wear Men's Deck Shoes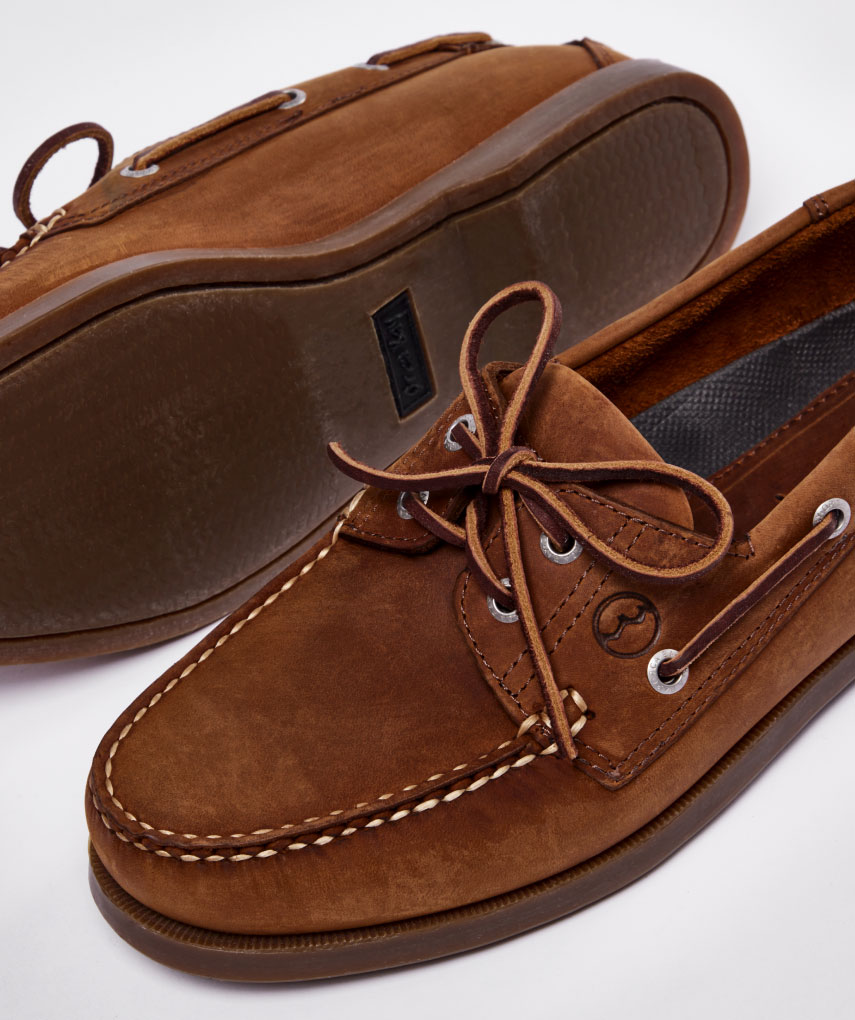 How to wear men's deck shoes is ultimately up to the wearer. With so many colours, patterns and textures to choose from there is plenty of opportunity to let your personality shine through. Be it the traditional tan leather deck shoe or a multicoloured variation, we have a few tips to help you style them.

Nautical associations mean deck shoes should be considered a shoe of leisure , not business. Of course that doesn't mean that you can't smarten up your look but they shouldn't be worn to the office.

These perfect summer shoes are best paired with jeans, chinos or shorts. Add a polo shirt or a button-down shirt in vivid colours or stripes for a traditional nautical look. Team your deck shoes with a pair of navy chinos for a timeless look that is suitable and flattering for most ages.